WPX is a popular player in the realm of hosting. It is known to offer Managed Support along with the infrastructure to host WordPress Sites.
Here's my WPX Hosting Review in which I'll explain:
How Fast is WPX Hosting?
How well is the support provided (Real Example)?
What are the best features WPX offers?
Moreover, Should you go with WPX?
Coupon: Anirudh to get 50% off. Use the above link to register or else the coupon won't work. (Case Sensitive)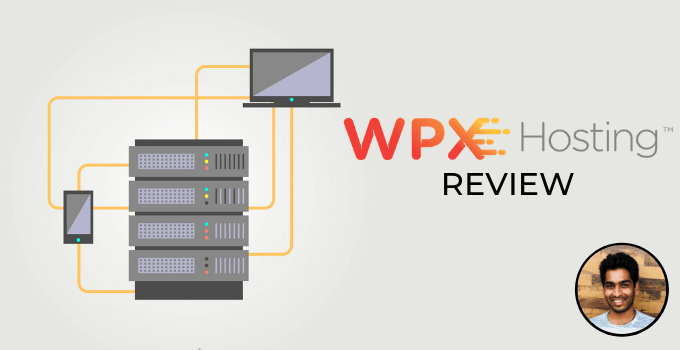 WPX Hosting Review
In almost all Hosting Reviews sites out there, WPX Hosting hails the Top Spot and few of my friends & past clients had their sites hosted on WPX.
All of them say the common that their support is excellent!
Even I agree on that, and I'll explain how well they helped in one issue we faced on a decent traffic money site that too very quickly in the latter part of the review.
After experiencing their support, I decided to test all the aspects of WPX Hosting.
And present you with my WPX Hosting Review with detailed stats to decide on your next hosting provider.
Especially the speed of the hosting (As we all know that Page Speed quickly became one of the important ranking factors in terms of Technical SEO).
WPX Hosting Speed Test
Instead of testing with a Fresh Copy of WordPress, I went with a Live site which usually gets around 20 – 30K Monthly traffic.
The site is having ample amount of JS, CSS, and High-Quality Images.
So, I wanted to test how it is performing on WPX Hosting at the moment and how it would perform when deployed on a Cloud VPS.
Speed Test
So, I copied the site to a Digital Ocean 2GB Droplet on Cloudways, A Fresh Droplet with no other website to slow down its performance.
After the tests I'm surprised to see the results:
| | | | | |
| --- | --- | --- | --- | --- |
| Hosting | SSD Storage | Test Location | CDN | Pingdom Load Time |
| WPX Business Plan | 10 GB | USA – Washington D.C | Yes | 536 ms |
| Digital Ocean 2 GB | 50 GB | USA – Washington D.C | No | 615 ms |
Here's the Pingdom Comparison – Left: WPX Hosting & Right: Digital Ocean 2 GB Droplet
WPX Hosting has 3 more sites apart from this running during the tests, and all those 3 sites are traffic sites.
Despite all these WPX Hosting prevailed to do well against a $22 Digital Ocean Droplet that was deployed on Cloudways Managed Hosting.
WPX Cloud Free CDN
With PageSpeed being one of the ranking factors, most SEO's are trying to squeeze as much speed as possible using Technical SEO to speed up their websites.
CDN is one of the best ways to speed up a site exponentially. CDN puts the assets of your site in different regions/locations all over the globe.
and serves those assets when a nearby user requests the site without troubling the server. However, almost all the CDNs cost you additional on top of server expenses.
Here's where WPX Hosting shines over the competition. They recently came up with their own CDN known as WPX Cloud.
The best part of WPX Cloud is it's Free! Yes, you heard it right.
WPX Cloud has 20+ WorldWide Locations. 20+ PoPs is considerably less and more number of PoPs determine how good of a CDN it is.
Hey, it's free right unlike the paid CDNs, and the integration of WPX Cloud is effortless. Almost all CDN Integration requires technical knowledge to understand custom subdomains, Pull Zone, Push Zone, etc.,
It's not needed to configure WPX Cloud. Here's how to get started with WPX Cloud CDN by WPX Hosting easily:
How to enable WPX Cloud CDN
Login to your client area if you're already registered. If not, register using the below link and use the coupon code for 50% off.
Coupon: Anirudh to get 50% off. Use the above link to register or else the coupon won't work. (Case Sensitive)
Click "Manage" right below the "WordPress Hosting" and select the Hosting Account which has your desired website that needs CDN Integration.
The left pane should have an option named "WPX Cloud". Just click on the option and toggle "Enable" right beside the website name, like this:
After you enable the WPX Cloud, The DNS Records of your domains gets 4 additional DNS Records as follows:
| | | |
| --- | --- | --- |
| Type of Record | DNS Record | Points To |
| A | @ or Host | IP 1 |
| A | @ or Host | IP 2 |
| A | WWW | IP 1 |
| A | WWW | IP 2 |
These records help cache the assets of your site at available CDN Locations. Make sure you find the similar setup on the Zone Editor section to check whether the CDN is configured properly or not.
Alternatively, WPX Support can help verify it for you.
CDN eases the load of most HTTP Request a website make when requested by a user and serves them fast. Here's a case study on how enabling CDN has improved the traffic by 200% – 300%.
Infrastructure
WPX Hosting uses SSD based storage for their servers, which helps in faster throughputs helping the sites serve quicker than shared hosting that uses traditional slow storage raids.
All the sites that are deployed on WPX use HTTP/2, which is beneficial in terms of Page Speed.
With HTTP/2, browsers can load & process multiple assets like JS, CSS, HTML, and Images simultaneously when the website is requested.
Sites that use HTTP/2 doesn't need their assets grouped to one file, and it actually slows the site a bit, and most of us are unaware of this fact.
Anyhow, It's a discussion for another day, and I'll get back with a detailed post on it soon.
They support PHP 7.3 Latest. Upgrading to PHP 7.x+ would speed up a site quite a lot, and there are several benefits to upgrading to PHP 7+.
---
Features
Here are a few features of WPX Hosting that are worth mentioning:
User Interface
User Interface is of the entire hosting platform is a custom panel, not regular cPanel what most server providers use. And, I personally don't like cPanel.
I like custom made hosting management panel like this, but WPX sure needs revision to their existing design. It's okay but needs an overhaul, design-wise.
File Manager
Most cPanel based hosting platform has File Manager as a feature that lets you access files in /root of your server. However, many custom made platforms don't.
They suggest users set up FTP accounts and access the server using FTP or SFTP via FileZilla or by an alternate client.
WPX is an exception to that. They have file manager features present in the panel and it works perfectly and helped me save plenty of time in the past by preventing me to fire up FileZilla for simple file management tasks.
Regular Backups
WPX Hosting comes with a Backup Manager. All of your sites gets backed up regularly on a daily basis.
Plus, backup retention is quite good. They store each and every backup of your site for up to 28 Days. Restoring to an earlier backup is very easy.
All you need to do is to go to the backups section, Pick a site and select the data of the backup you want to restore.
Also, there is an option to take a personal backup. You can initiate this at any time in the backups section. All the automatic backups are off-site.
Which means they don't eat up your storage. The backups are stored securely in their raid 10 based cloud servers, But the personal backups occupy your server's storage.
Staging Area
Staging environment has become a mandatory feature for a premium hosting. WPX too offers Staging area for hassle-free edits we perform on our sites without disturbing the production sites.
One can easily make a staging site of their existing sites and make the needful edits and push the edits to the production site without any down-time.
---
24×7 Support – Best-In-Class
Providing awesome support to customers is the best way to gain their trustworthiness and maintain customer retention. WPX Hosting does this pretty well.
I haven't seen a bad review regarding WPX Hosting Support.
Here's my personal experience with WPX Support:
One of my client's sites was having a CSS Issue on a High Traffic site hosted on WPX, This was brought to his notice by few of site's visitors.
Which means we're already late in noticing the issue.
Before a month or 45 days ago to the day we noticed, We'd added AMP to the site to take advantage of Page Speed, and better CTR AMP gives to a site.
This was working pretty well for us. We observed a decent 25% – 40% boost in traffic. Back to the issue: So, The CSS was not loading on the site and each and every page visit seemed broken.
Only HTML Text was seen on the page after loading. Needless to say, I went on to the dashboard and purged the cache assuming Caching Plugin is causing the issue.
But, That didn't fix the issue, and we're trying to recall what sort of edits we did in the past days that caused this problem. And, the client was asking me, is it because of the AMP?
I was 100% sure it wasn't because of AMP as it's an entirely different thing to mess up the site. So, We're in a dilemma and went ahead to contact the support so that they can provide a log file for us to identify and fix the issue.
Instead of providing us with the log file, They were quick enough to exactly explain to us what's the issue is, and why clearing cache didn't work.
And the issue is that we had exhausted our server's storage limit. Still, I was wondering why it caused CSS to break and the rep explained this clearly, which is actually true. It's a minor detail we forgot at that moment.
When the cache is purged, It first creates a new set of Cache Files and then clears the old cahce files.
Which requires free space, which we lack in the server and that is why it's wasn't working, and after clearing a few megs we're back in business.
Site started serving as it should and this all happened within 5 mins. I would say they're very good & fast in terms of support which most providers lack.
And, They justify the term "Managed" in "Managed WordPress Hosting", unlike few competitors.
---
How secure WPX Hosting can be?
We see lots of reports every day regarding plugins having vulnerabilities and while few of them gets fixed quickly by the developers. Most of them don't.
And, having such plugins can open doors to hackers to maliciously exploit our site and get control over it easily. And, We've been seeing sites getting hacked regularly these days.
Unlimited 1-Click Free SSL
After the launch of Let's Encrypt, Almost every provider added support to 1-Click SSL feature. Same goes for WPX Hosting.
With a single click, you can add SSL Certificate to your websites right from the dashboard adding one of the primary layers of security to your websites.
Free Malware Removal
This is by far the best support feature very few are providing when it comes to Managed WordPress Hosting. As mentioned earlier, WordPress websites are very vulnerable.
WordPress tops the stats of sites getting hacked, and malware removal is a mess unless you keep regular backups of your site.
WPX does that for you – You can get back to a hack free version of your site. But this doesn't work all the time, What if your backups are infected and you just restored an infected one just to get hacked again?
There's no solid one-click solution to disinfect a site 100%. We've to rely on several methods to completely secure the site in such cases.
And, It's a tough thing to do unless you're technical enough. If you're not, you're forced to hire an expert. Maybe Me ? (Not an expert, BTW. But I have helped many in securing their sites. Contact Me if you need help, I'll help you for free)
Coupon: Anirudh to get 50% off. Use the above link to register or else the coupon won't work. (Case Sensitive)
If you're already a WPX Hosting customer, then they'll help you for free in the malware removal. If not join using the above link and use my coupon code for 50% discount.
---
Free Unlimited Website Migrations
One more surprisingly beneficial feature with WPX is Website Migrations. They do that for free and for an unlimited time.
All they want is to be their customer, and their support team will cover the migration for you. Few providers have started doing this.
Few support this already, but there are limitations. Either they offer for one-time and charge for more, or they charge each and every migration.
Email
Many Managed WordPress Hosting doesn't provide email boxes. Even premium ones like Kinsta and more affordable ones like Cloudways don't.
WPX has this, and it's hassle-free to set up. You can allocate data to each email box and manage all of them right from the dashboard.
No need to worry about Mail Exchange DNS Records and stuff. They automatically get added in the Zone Editor DNS Section when you create the email for yourselves. Just like when enabling WPX Cloud Free CDN.
---
Helping Homeless Dogs & Cats
This part is not actually relevant to the WPX Hosting Review. However, I decided to write about this anyway.
So, the founder of WPX Hosting – Terry Kyle started a project for Homeless Dogs & Cats. And It's wonderful. I take care of 20 Cats at my home
Being a pet lover, I thought it's worth mentioning here, and I recommend everyone of you to check this project: EveryDogMatters
WPX feeds 500+ homeless/shelter dogs & cats every day. I wish they grow more and keep doing such awesome service to the homeless animals.
Conclusion
Here are a few things I wish had in WPX Hosting the first place and bonus discount for the readers:
Features I would like to see in WPX Hosting
UI – Definitely the User Interface should be revised, It can be better looking with more info regarding the server, etc.,
Server Storage – Currently, They're offering very low SSD Storage compared to the competitors starting at 10 gigs for the Business Plan, I wish it to be at least 20 GB
More CDN PoPs – As mentioned earlier, More PoPs = More Speed. Currently, it's 20+.
Setting those aside, I would strongly suggest going for WPX if you're serious about your Business, PageSpeed, and need Awesome Support at the same time
Bonus
Here's a WPX Hosting Promo Code for you to get 50% OFF on all the plans of WPX. Use this Coupon Code along with the link and get 50% Discount on your total bill
Coupon: Anirudh to get 50% off. Use the above link to register or else the coupon won't work. (Case Sensitive)
WPX Hosting Review
EASE OF USE

VALUE

RELIABILITY

FEATURES

SUPPORT
Summary
Not all Managed WordPress Hostingproviders are doing just to the term "Managed" by offering poor support when the customer needed.
WPX Hosting is different. It's the best in terms of Customer Support with quick resolution & assistance
Pros
Their support is excellent
Free CDN with all Hosting Plans
Cons
UI needs improvements
Less Server Storage